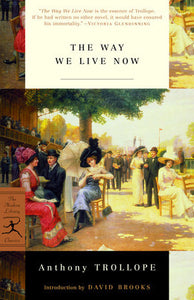 The Way We Live Now by Anthony Trollope
Regular price
₱750.00
₱0.00
Unit price
per
'Trollope did not write for posterity,' observed Henry James. 'He wrote for the day, the moment; but these are just the writers whom posterity is apt to put into its pocket.' Considered by contemporary critics to be Trollope's greatest novel,
The Way We Live Now
is a satire of the literary world of London in the 1870s and a bold indictment of the new power of speculative finance in English life. 'I was instigated by what I conceived to be the commercial profligacy of the age,' Trollope said.
His story concerns Augustus Melmotte, a French swindler and scoundrel, and his daughter, to whom Felix Carbury, adored son of the authoress Lady Carbury, is induced to propose marriage for the sake of securing a fortune. Trollope knew well the difficulties of dealing with editors, publishers, reviewers, and the public; his portrait of Lady Carbury, impetuous, unprincipled, and unswervingly devoted to her own self-promotion, is one of his finest satirical achievements.
His picture of late-nineteenth-century England is a portrait of a society on the verge of moral bankruptcy. In
The Way We Live Now
Trollope combines his talents as a portraitist and his skills as a storyteller to give us life as it was lived more than a hundred years ago.
PRODUCT DETAILS
Paperback
Publisher: Modern Library
ISBN: 
978-0593534724
Pages: 240
---