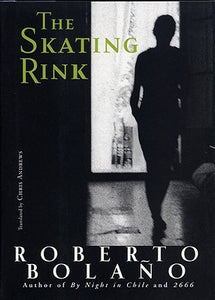 The Skating Rink by Roberto Bolaño
Regular price
₱897.00
₱0.00
Unit price
per
A phenomenally unusual three-way murder mystery.
With a murder at its heart, Roberto Bolano's 
The Skating Rink
 is, among other things, a crime novel. Murder seems to have exerted a fascination for the endlessly talented Bolano, who in his last interview, according to 
The Observer
, "declared, in all apparent seriousness, that what he would most like to have been was a homicide detective."

Set in the seaside town of Z, north of Barcelona, 
The Skating Rink
 is told in short, suspenseful chapters by three male narrators, and revolves around a beautiful figure skating champion, Nuria Martí. A ruined mansion, knife-wielding women, political corruption, sex, and jealousy all appear in this atmospheric chronicle of a single summer season in a seaside town, with its vacationers, businessmen, immigrants, bureaucrats, social workers, and drifters.
REVIEWS
"A highly engaging novel of lyricism, menace and beauty." - James Yeh
"Darkly funny, but also tender and complex in the tenor of classic Bolano novels." - Savannah ("Savvy") Jones
"Lucid fury . . . is a pretty good description of Bolano's aesthetic. He is a novelist of voraciousness without sentiment, hardness to a fever pitch.". - Todd Shy
"One of the strangest mysteries...with its dark-summer heat that all but comes off the page. - Marilis Hornidge
"This short, exquisite novel is another unlikely masterpiece, as sui generis as all his books so far...Bolano in The Skating Rink manages to honor genre conventions while simultaneously exploding them, creating a work of intense and unrealized longing. - Wyatt Mason


PRODUCT DETAILS
Paperback
Publisher: New Directions
ISBN: 
978-0811218689
Pages: 192
---