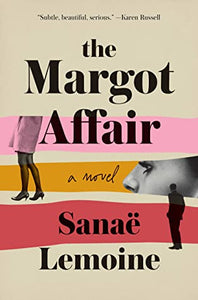 The Margot Affair by Sanaë Lemoine
Regular price
₱995.00
₱0.00
Unit price
per
Margot Louve has lived her whole life as a secret. The hidden daughter of a long-standing affair, she exists with her mother in the shadows, living in a small Parisian apartment on the Left Bank.

It is a house of cards that Margot—fueled by a longing to be seen and heard—decides to tumble. The summer of her seventeenth birthday, she meets a well-regarded journalist who will set her plan in motion.

But as Margot is drawn into an adult world she struggles to comprehend, she learns how one impulsive decision can shatter the lives of those around her in ways she could never have imagined. Incisively exposing the seams between private lives and public faces, 
The Margot Affair

 
is a simmering exploration of desire, transgression, and the dangers of speaking the truth.
REVIEWS
"A diary and a page-turner and a masterful debut, all at once."
—Victor LaValle, author of

 
The Changeling
"Gorgeous . . . very French. . . in lush, lyrical prose that perfectly captures the heightened emotion and confusion of being a young woman with a bruised heart and limited experience. Though the book seems to be about an absent father, it's more about a tricky mother, and about motherhood in general. It asks the ultimate question about this most complicated of relationships: What will a mother do for her child?"
—Sarah Lyall, 
The New York Times 

"Drumming with tension, 
The Margot Affair 
grapples with the complexity of familial love."
—
Marie Claire 
"[A] perfect mix of literary and entertaining . . . This is one of those books that you didn't know you needed until you read the first few pages and you go: oh, I'm home."
—LitHub

"Unusual and accomplished . . .  Ms. Lemoine's story moves in intriguing leaps and twists until her real subject is revealed. . . . Using clever anecdotes, nods to French cinema and allusions to 
Bonjour Tristesse
, Françoise Sagan's classic coming-of-age tale, the novel asks what exactly makes a "good mother." . . . Good novels can supply insights into other cultures, and, for outsiders, one of this book's pleasures is the glimpse it affords into French mores and habits. . . . Here she lifts the window slats not just on the covert behavior of consenting adults, but on many facets of bourgeois Parisian life."
—
The Economist


PRODUCT DETAILS
Paperback
Publisher: Hogarth
ISBN: 
978-1984854452
Pages: 352
---