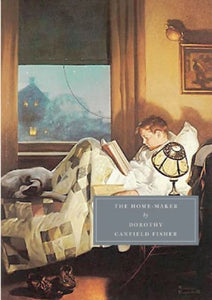 The Homemaker by Dorothy Canfield Fisher
Regular price
₱1,370.00
₱0.00
Unit price
per
An ahead-of-its-time novel about an unhappy and obsessively house-proud mother of three whose husband is disabled, leaving her free to work in a department store and him to be a Montessori father. One of the ten best-selling novels of 1924 and made into a (silent) film, it was singled out by Elaine Showalter in her recent book on American women writers and was included in the collection Five Hundred Great Books by Women.
Dorothy Canfield Fisher (1879-1958) was one of America's best-known novelists.
She strongly supported women's rights, racial equality, and lifelong education. Eleanor Roosevelt named her one of the ten most influential women in the United States.
REVEIWS
"A remarkable and brave novel. I was astonished at the acute angle of vision and the fullness of sympathy toward both men and women—and children."— - Carol Shields
"This 1924 novel... deals in a seemingly contemporary with the issue of how a married couple can feel oppressed and frustrated by the roles they are expected to play and what happens when these roles are reversed." — Philadelphia Inquirer.
"What if a husband likes to keep house and is good at it? What if a wife wants to have a job? In the early part of the 20th century, switching roles was an unthinkable solution, but the author uses the frame of a serious accident to set up the situation in this book. "The Home-Maker" is a great commentary on gender roles and Fisher is a keen observer of human nature, so the characters are wonderful. However, the real reason to read this book is something additional. It contains some of the very best writing I have ever seen on the unfolding of a child's character and the responsibility of a parent. The scenes with the children are charming and appealing, but they are also intensely insightful. Fisher had strong views on the need for children to grow up strong and independent, and she found few obligations more serious that than of parents who must carefully accord respect to their children, while nurturing their children's nature to the fullest. She makes her serious point in the framework of an irresistible tale of a loving father and mother who just happen to be miscast in their family roles. Don't miss this one if you want a great book about what children need from adults. And don't miss Steven and the egg-beater."-Amazon Reviewer.
PRODUCT DETAILS
Paperback with flaps
Publisher: Persephone Books
ISBN: 978-1906462130
Pages: 288


---