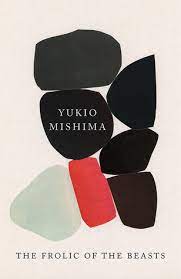 The Frolic of the Beasts by Yukio Mishima
Regular price
₱895.00
₱0.00
Unit price
per
Translated into English for the first time, a gripping short novel about an affair gone wrong, from the acclaimed Japanese author, Yukio Mishima.

Set in rural Japan shortly after World War II, 
The Frolic of the Beasts
 tells the story of a strange and utterly absorbing love triangle between a former university student, Kōji; his would-be mentor, the eminent literary critic Ippei Kusakado; and Ippei's beautiful, enigmatic wife, Yūko. When brought face-to-face with one of Ippei's many marital indiscretions, Kōji finds his growing desire for Yūko
compels him to action in a way that changes all three of their lives profoundly. Originally published in 1961 and now available in English for the first time, 
The Frolic of the Beasts
 is a haunting examination of the various guises we assume throughout our lives, and a tale of psychological self-entrapment, seduction, and murder.
REVIEWS
"Mishima is a giant. . . . One of the most acclaimed writers of the 20th century. . . . The uniquely askew relationships at the center of the story mean that its most riveting scenes are well and truly riveting; unforgettable, even." —
The New York Times Book Review


"A compelling tale of love and violence. . . . Mishima is a magnificent and important storyteller. . . Admirers of the enigmatic Japanese master have reason to rejoice. Those still unfamiliar with his work might very well have a new entryway to one of the most vital—and troubling—literary voices of the 20th century. . . . By the time we reach the end, Mishima's twisty timeline pays huge dividends. A powerful epilogue ties a neat ribbon around the plot." —
The Washington Post

 
"[A] little gem." —
The Wall Street Journal

 
"[A] luridly propulsive novel. . . . This disturbing book is a masterful look into the 'very instant when the truth of perverse human nature begins to shine.' . . . With Mishima's baroque, beautiful prose hinting at depravity on every page." —
Publishers Weekly
PRODUCT DETAILS
Paperback
Publisher: Vintage
ISBN: 
978-0525434153
Pages: 176
---