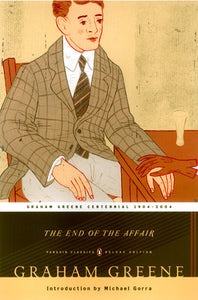 The End of the Affair by Graham Greene
Regular price
₱965.00
₱0.00
Unit price
per
"A story has no beginning or end: arbitrarily one chooses a moment of experience from which to look ahead..."
"This is a record of hate far more than of love," writes Maurice Bendrix in the opening passages of
The End of the Affair
, and it is a strange hate indeed that compels him to set down the retrospective account of his adulterous affair with Sarah Miles. Now, a year after Sarah's death, Bendrix seeks to exorcise the persistence of his passion by retracing its course from obsessive love to love-hate. At first, he believes he hates Sarah and her husband, Henry. Yet as he delves further into his emotional outlook, Bendrix's hatred shifts to the God he feels has broken his life, but whose existence at last comes to recognize.
Originally published in 1951,
The End of the Affair
was acclaimed by William Faulkner as "for me one of the best, most true and moving novels of my time, in anybody's language."
This Penguin Deluxe Edition features an introduction by Michael Gorra.
REVIEWS
"Undeniably a major work of art...It remains from first to last an almost faultless display of craftsmanship and a wonderfully assured statement of ideas." —
The New Yorker


"Singularly moving and beautiful...the relationship of lover to husband with its crazy mutation of pity, hate, comradeship, jealousy, and contempt is superbly described...the heroine is consistently lovable." —Evelyn Waugh
"An absorbing piece of work, passionately felt and strikingly written." —The Atlantic Monthly

PRODUCT DETAILS
Paperback
Publisher: Penguin Classics
ISBN: 978-0142437988
Pages: 192
---