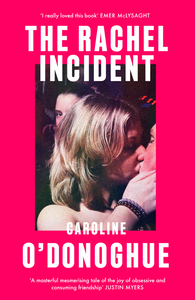 The Rachel Incident by Caroline O'Donoghue (HC)
Regular price
₱1,650.00
₱0.00
Unit price
per
The Rachel Incident
is an all-consuming love story. But it's not the one you're expecting. It's unconventional and messy. It's young and foolish. It's about losing and finding yourself. But it is always about love.

When Rachel falls in love with her married professor, Dr Byrne, her best friend James helps her devise a plan to seduce him. But what begins as a harmless crush soon pushes their friendship to its limits. Over the course of a year they will find their lives ever more entwined with the Byrnes' and be faced with impossible choices and a lie that can't be taken back...
REVIEWS
Sometimes the most passionate love stories are platonic
.
As sharply witty as it is warm-hearted and wise
, this coming-of-age story about an Irish graduate and her gay best friend captures the intensity of friendship, the brittle craziness of youth and the desperation of gunning for an arts job in a recession. ―
Guardian, Best Summer Reads
A deliciously complicated and very real romance with some refreshing twists. O'Donoghue captures all the intensity of messy young love, burnishing it with nostalgia and pointed wit.
―
Hephzibah Anderson, Mail on Sunday
Caroline O'Donoghue
perfectly captures the intensity and high and lows of first love
, and while
The Rachel Incident
is steeped in nostalgia and heartache, it's also
very, very funny.
―
Red Magazine


PRODUCT DETAILS
Hardcover Edition
Publisher: Virago
ISBN: 
978-0349013558
Pages: 320
---