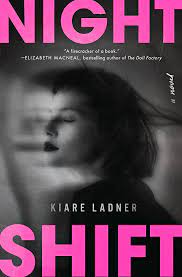 Nightshift by Kiare Ladner
Regular price
₱1,095.00
₱0.00
Unit price
per
When twenty-three-year-old Meggie meets distant and enigmatic Sabine, she recognizes in her the person she would like to be. Giving up her daytime existence, her reliable boyfriend, and the trappings of a normal life in favour of working the same nightshifts as Sabine could be the perfect escape for Meggie. She finds a liberating sense of freedom in indulging her growing preoccupation with Sabine and plunges herself into another existence, gradually immersing herself in the transient and uncertain world of the nightshift worker.

Dark, sexy, frightening, Nightshift explores ambivalent female friendship, sexual attraction and lives that defy easy categorization. London's stark urban reality is rendered other-worldly and strange as Meggie's sleep deprivation, drinking and fixation with Sabine gain a momentum all of their own. Can Meggie really lose herself in her trying to become someone else?

A novel of obsession and desire, Kiare Ladner's Nightshift is a beautiful and moving debut which asks profound questions about who we are and if we can truly escape ourselves.
REVIEWS
"Exciting and provocative . . . Daring and dark
, it explores themes of nihilism, escape, and desire, with classic noir echoes of Patricia Highsmith. Is it possible to become someone else?" - Julianne Pachico, author of 
The Anthill
"A firecracker of a book
 - toxic, sexy, pacy and packed with humour." - Elizabeth Macneal, author of 
The Doll Factory


"A brilliantly 
compulsive, unnerving read
. A meditation on obsessive female friendship that 
sinks into the bone." 
- Irenosen Okojie, author of 
Nudibranch
PRODUCT DETAILS
Paperback
Publisher: Picador
ISBN: 
978-1529010404
Pages: 256
---