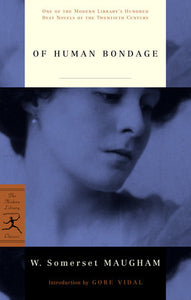 Of Human Bondage by W. Somerset Maugham
Regular price
₱798.00
₱0.00
Unit price
per
W. Somerset Maugham's masterwork is the coming-of-age story of Philip Carey, a sensitive young man consumed by an unrequited and self-destructive love.
Born with a clubfoot, Philip is orphaned as a child and raised by unsympathetic relatives. Sent to a boarding school where he has difficulty fitting in, he grows up with an intense longing for love, art, and experience. After failing to become an artist in Paris, he begins medical studies in London, where he meets Mildred, a cold-hearted waitress with whom he falls into a powerful, tortured, life-altering love affair. This is the most autobiographical of Maugham's works, with Philip's malformed foot standing in for Maugham's stutter, and the character's painful romantic struggles inspired by the author's own intense love affairs with both men and women. A brilliant and deeply moving portrayal of the price of passion and the universal desire for connection,
Of Human Bondage
stands as one of the most accomplished novels in English literature.
REVIEW
"[
Of Human

 
Bondage] was an entirely new departure. Maugham, who usually cultivates a fastidious detachment, shows in this work a personal commitment that was unusual, sweeping the reader up in his own passionate intensity. Compelling and uncompromising, written with an unflagging energy and drive, the work could hardly be more different from any he had previously published . . . The story closely follow[s] the events of Maugham's early life, with at its centre the terrifying experience of a masochistic sexual obsession." —from the Introduction by Selina Hastings


PRODUCT DETAILS
Paperback
Publisher: Modern Library
ISBN: 
978-0375753152
Pages: 656
---