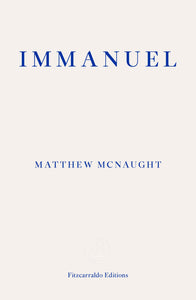 Immanuel by Mathew McNaught
Regular price
₱1,050.00
₱0.00
Unit price
per
At what point does faith turn into tyranny? In 
Immanuel
, winner of the inaugural Fitzcarraldo Editions Essay Prize, Matthew McNaught explores his upbringing in an evangelical Christian community in Winchester. As he moved away from the faith of his childhood in the early 2000s, a group of his church friends were pursuing it to its more radical fringes. They moved to Nigeria to join a community of international disciples serving TB Joshua, a charismatic millionaire pastor whose purported gifts of healing and prophecy attracted vast crowds to his Lagos ministry, the Synagogue Church of All Nations (SCOAN). Years later, a number of these friends left SCOAN with accounts of violence, sexual abuse, sleep deprivation and public shaming.

In reconnecting with his old friends, McNaught realized that their journey into this cult-like community was directly connected to the teachings and tendencies of the church of their childhood. Yet speaking to them awakened a yearning for this church that, despite everything, he couldn't shake off. Was the church's descent into hubris and division separable from the fellowship and mutual sustenance of its early years? Was it possible to find community and connection without dogma and tribalism? Blending essay, memoir and reportage, 
Immanuel
 is an exceptional debut about community, doubt, and the place of faith in the twenty-first century.
REVIEWS
"Matthew McNaught is a strong and welcome new voice in essayism, clear-sighted and hugely empathetic. In this deeply affecting account of his own spiritual journey, he weaves in and out of the byways of religious belief once known as "enthusiasm", charting the body-shaking, mind-breaking experiences of friends and strangers alike. By turns cynical, doubtful, wounded and yearning, his words give astonishing shape to the space that only faith can fill."― Marina Benjamin, author of Insomnia

"Empathy" is a popular critical buzzword, but Matthew McNaught's writing exemplifies the work of empathy at its most intense and, dare one say, sincere. Whether his subject is ordinary Syrians trapped by war or the fellow parishioners of his childhood church, ensnared by a false prophet, he always gives voice to the motives and emotions of those he writes about, mixed as they are and fraught with tragic consequence. McNaught is a sublime listener who knows how to put listening into words."― Marco Roth, author of The Scientists

"Matthew McNaught's Immanuel is a mesmerising and compelling trip to the very edges of faith. The author explores the seductive pull of radical belief systems that can lead followers towards communal joy, transcendence, human folly and, at times, brutality. Through his journey as a member of an evangelical Christian community in his youth to an adulthood of questioning the more extreme manifestations of this community in Nigeria, McNaught has created an expansive narrative that asks the fundamental questions around our need for faith and belonging whilst exploring their limits. Immanuel is a beautiful and important book."― Joanna Pocock, author of Surrender

PRODUCT DETAILS
Paperback with French flaps
Publisher: Fitzcarraldo Editions
ISBN:  978-1910695678
Pages: 248
---