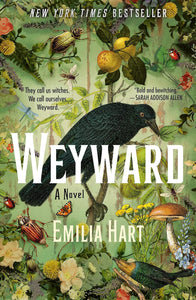 Weyward by Emilia Hart
Regular price
₱1,050.00
₱0.00
Unit price
per
I am a Weyward, and wild inside.

KATE, 2019
Kate flees London – abandoning everything – for Cumbria and Weyward Cottage, inherited from her great-aunt. There, a secret lurks in the bones of the house, hidden ever since the witch-hunts of the 17th century.
VIOLET, 1942
Violet is more interested in collecting insects and climbing trees than in becoming a proper young lady. Until a chain of shocking events changes her life forever.
ALTHA, 1619
Altha is on trial for witchcraft, accused of killing a local man. Known for her uncanny connection with nature and animals, she is a threat that must be eliminated.
But Weyward women belong to the wild. And they cannot be tamed…
Weaving together the stories of three women across five centuries, Weyward is an enthralling novel of female resilience and the transformative power of the natural world.

REVIEWS

"A triumphant debut...the magic harnessed by the characters feels completely real in this captivating outing." ––Publishers Weekly 

"The three timelines and the compelling stories of each of the women intertwine and are layered with the natural magic that runs through the female line of the Weyward family―magic that will help and heal. This combination of magical realism and historical fiction is perfect for fans of Alice Hoffman and Megan Giddings." ––Library Journal

"A generational tale of female resilience." ––The Guardian

"Weyward glows and glimmers with hidden powers, thrills and danger…[and] draws readers inexorably to a glorious conclusion that celebrates connectedness and the power of women and nature...A suspenseful, magical debut." ––Shelf Awareness

"It seems to be the year of the witch book, and this is the best so far. A gripping debut."––Good Housekeeping (UK)

PRODUCT DETAILS
Trade Paperback
Publisher: St. Martin's Griffin
ISBN: 978-1250842725
Pages: 416
---