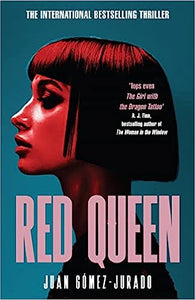 The Red Queen by Juan Gómez-Jurado (HC)
Regular price
₱990.00
Sale price
₱1,380.00
Unit price
per
Soon to be a major series for Amazon Prime . . .
You've never met anyone like her . . .


Antonia Scott is special. Very special. She is not a policewoman or a lawyer. She has never wielded a weapon or carried a badge, and yet, she has solved dozens of crimes.

But it's been awhile since Antonia left her attic in Madrid. The things she has lost are much more important to her than the things awaiting her outside.

She also doesn't receive visitors. That's why she really, really doesn't like it when she hears unknown footsteps coming up the stairs.

Whoever it is, Antonia is sure that they are coming to look for her.

And she likes that even less.


Juan Gómez-Jurado's internationally bestselling thriller series has sold more than two million copies to date in Spain alone. Translated by
Nick Caistor.

REVIEWS

"One of the most extravagantly entertaining novels I've ever read. It's an electrifying serial-killer thriller . . . I loved every word." - A.J. Finn, bestselling author of 

The Woman in the Window



"Best thriller books of 2023." - 

Sunday Times



"A Spanish spin on 

The Girl with the Dragon Tattoo . . .

 A female Sherlock Holmes." -  

The Times



"Often compared with Lisbeth Salander . . . Antonia Scott looks destined to leave every bit as lasting an impression." - Daily Mail


PRODUCT DETAILS
Hardcover Edition
Publisher: 

Macmillan


ISBN: 

978-1529093636


Pages: 384

---