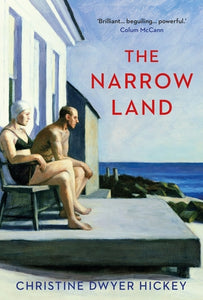 The Narrow Land by Christine Dwyer Hickey
Regular price
₱867.00
₱0.00
Unit price
per
1950: late summer season on Cape Cod. Michael, a 10-year-old boy, is spending the summer with Richie and his glamorous but troubled mother. Left to their own devices, the boys meet a couple living nearby—the artists Jo and Edward Hopper—and an unlikely friendship is forged. She, volatile, passionate and often irrational, suffers bouts of obsessive sexual jealousy. He, withdrawn and unwell, depressed by his inability to work, becomes besotted by Richie's frail and beautiful Aunt Katherine who has not long to live—an infatuation he shares with young Michael. A novel of loneliness and regret, the legacy of World War II and the ever-changing concept of the American Dream.
REVIEWS
"I loved this book
. Christine Dwyer Hickey writes such 
beautifully poised prose
. Flawed lives played out in a postcard perfect setting." ― 
Graham Norton
"With a beguiling grace and a deceptive simplicity, Christine Dwyer Hickey reminds us that the past is never far away
 - rather, it constantly surrounds us, suspends us, haunts us. This is 
a brilliant portrait of America
 as we journey with Edward Hopper and his marvellously eccentric wife, Josephine Nivison, through the years shortly after the Second World War. Two young boys, one German, one American, negotiate the ongoing perils of loss, while Hopper's wife poses searing questions, and Hopper himself attempts answers on canvas. The world, as so powerfully evoked by Christine Dwyer Hickey, is bridged by small acts of mercy and hope." ― 
Colum McCann


"Everything about the writing is so carefully balanced - thought and action, feeling and movement, drama and suspense. She leaves space on the page, giving her characters the freedom to behave unexpectedly and to occupy the mind of the reader even when they are offstage.
 

It is a long time since I have read such a fine novel or one that I have enjoyed quite so much."
 ― 
Irish Times
"Tender."
 ― 
The Times Literary Supplement
PRODUCT DETAILS
Paperback
Publisher: Atlantic Books
ISBN: 
978-1786496744
Pages: 384
---