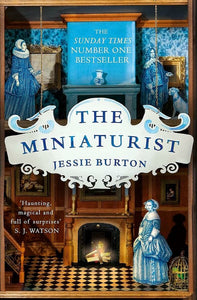 The Miniaturist by Jesse Burton
Regular price
₱820.00
₱0.00
Unit price
per
Beautiful, intoxicating and filled with heart-pounding suspense, Jessie Burton's historical novel, 
The Miniaturist,
 is a story of love and obsession, betrayal and retribution, appearance and truth.
On an autumn day in 1686, eighteen-year-old Nella Oortman knocks at the door of a grand house in the wealthiest quarter of Amsterdam. She has come from the country to begin a new life as the wife of illustrious merchant trader Johannes Brandt, but instead she is met by his sharp-tongued sister, Marin. Only later does Johannes appear and present her with an extraordinary wedding gift: a cabinet-sized replica of their home. It is to be furnished by an elusive miniaturist, whose tiny creations mirror their real-life counterparts in unexpected ways . . .
Nella is at first mystified by the closed world of the Brandt household, but as she uncovers its secrets she realizes the escalating dangers that await them all. Does the miniaturist hold their fate in her hands? And will she be the key to their salvation or the architect of their downfall?
REVIEWS


"A fabulously gripping read that will appeal to fans of 
Girl With a Pearl Earring

 
and 
The Goldfinch
, but Burton is a genuinely new voice with her visceral take on sex, race and class . . . Burton writes great complex female characters." - 
Observer


"The Miniaturist
 by Jessie Burton is set in 17th century Amsterdam where a trader presents his new wife Nella with a miniature replica of their home. Its tiny occupants mirror their real-life counterparts and show Nella what grave dangers lie in wait." - 
Daily Express


"Mesmerising and suspenseful . . . Unmissable." - 
Psychologies


"Ripples with undercurrents, secrets, hidden histories and inexplicable mysteries . . . Tantalising, beautifully poised, exquisitely detailed."
- 

Sunday Express


PRODUCT DETAILS
Paperback
Publisher: Picador
ISBN: 
978-1447250937
Pages: 448
---