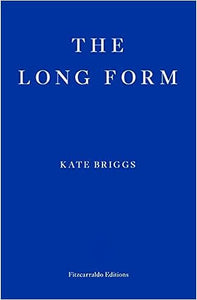 The Long Form by Kate Briggs
Regular price
₱1,270.00
₱0.00
Unit price
per
It's early morning and there's a whole new day ahead. How will it unfold? The baby will feed, hopefully she'll sleep; Helen looks out of the window. 
The Long Form
 is the story of two people composing a day together. It is a day of movements and improvisations, common and uncommon rhythms, stopping and starting again. As the morning progresses, a book – 
The History of Tom Jones
 by Henry Fielding – gets delivered, and the scope of the day widens further. Matters of care-work share ground with matters of friendship, housing, translation, aesthetics and creativity. Small incidents of the day revive some of the oldest preoccupations of the novel: the force of social circumstance, the power of names, the meaning of duration and the work of love. With lightness and precision, Kate Briggs renews Henry Fielding's proposition for what a novel can be, combining fiction and essay to write an extraordinary domestic novel of far-reaching ideas.
REVIEWS
" I have been thinking, many weeks after having finished it, of Kate Briggs's truly lovely 
This Little Art
, a book-length essay on translation that's as wry and thoughtful and probing as any book I've read in the past year. My favourite works are those in which one feels the writer wrestling with genre even as she is writing; Kate Briggs does this with her own kind of magic, never failing to write beguilingly and intelligently and passionately about the little art of translation, which in the end shows itself to be not so little, at all."
— Lauren Groff, author of 
Matrix


"Kate Briggs's This Little Art shares some wonderful qualities with Barthes's own work – the wit, thoughtfulness, invitation to converse, and especially the attention to the ordinary and everyday in the context of meticulously examined theoretical and scholarly questions. This is a highly enjoyable read: informative and stimulating for anyone interested in translation, writing, language, and expression."
— Lydia Davis


"Brilliant."
— The Windham Campbell Prize


PRODUCT DETAILS
Paperback with French flaps
Publisher: Fitzcarraldo Editions
ISBN: 
978-1804270325
Pages: 480
---