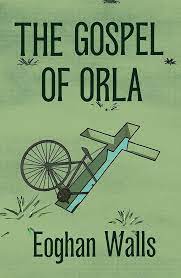 The Gospel of Orla by Eoghan Walls
Regular price
₱750.00
₱0.00
Unit price
per
A stunning debut novel from the Northern Irish poet Eoghan Walls,

 
The Gospel of Orla

 
is the coming-of-age story of a young girl, Orla, and the man she meets who has an astonishing and unique ability.


It is also a road novel that takes us across the north of England after the two flee Orla's village together. Here the mysteries of faith charge full bore into the vagaries of contemporary mores. A humorous, wise, deeply human and sometimes breathtaking work of lyrical fiction. 
REVIEWS
"In 
The Gospel of Orla
 by Northern Irish poet Eoghan Walls, Ireland represents the land of the heart's desire for its 14-year-old heroine, living in Lancashire with her father and little sister. Distraught at the recent death of her mother, Orla plans to run away to Liverpool to board the ferry and surprise her maternal relatives. There is just one hitch; escaping on her bike in the middle of the night, she collides with a homeless man who claims, very persuasively, to be the resurrected Jesus.  . . . [A] weird and original tale." 
—Financial Times


"The Derry, Northern Ireland poet Eoghan Walls is a storyteller, as it turns out, of the absolute first rank. From the very first scene of this — I'm reading it right now — where a young woman tries to run away from home on a bicycle and doesn't succeed in doing so. Incredibly good reading. If you looking to dip your toes a little further into the waters of international literature which is really my passion, I am here to tell you.... check out 
The Gospel of Orla
, it's really a great read."  
—John  Darnielle of the  Mountain  Goats 


"
The Gospel of Orla
 is written with immense control and precision so that the voice of the protagonist emerges as alive, individual and memorable. Eoghan Walls manages to make every single emotion Orla feels—every thought, response and action—utterly convincing and fresh and original." 
—Colm Tóibín, author of

 
The Magician
PRODUCT DETAILS
Paperback
Publisher: Seven Stories Press
ISBN: 
978-1644212820
Pages: 240
---