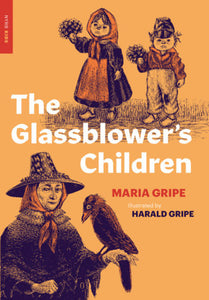 The Glassblower's Children by Maria Gripe
Regular price
₱660.00
₱0.00
Unit price
per
Albert the glassblower and Sofia are the loving parents of little Klas and Klara. Albert makes the most beautiful glass bowls and vases (unfortunately they are so impractical that no one will buy them), while Sofia supports the family by working in the fields. Every year Albert goes to the fair to try to sell his wares, and sometimes Sofia and the children go too. At the fair the family meets Flutter Mildweather, a weaver of magical rugs that foretell the future, and Klas and Klara come the attention of the splendid Lord and Lady of All Wishes Town, who have everything they want except for one: children.
 
Full of curious and vivid characters—like the one-eyed raven Wise Wit, who can only see the bright side of life, and the monstrous governess Nana, whose piercing song can shatter glass—
The Glassblower's Children
 also ponders such serious matters as what it means to find meaningful work and the difference between what you want and what you need. In 
The Glassblower's Children
 Maria Gripe has drawn on fairy tales and Norse myths to tell a thrilling story with a very modern sensibility.
REVIEWS
"Beautiful and terrifying by turns...
The Glassblower's Children
 is a brave book." —
The New York Times Book Review

 
"Fifty years ago, Swedish storyteller Maria Gripe set down a curious and somewhat disconcerting fairy tale about a benevolent carpet-weaving witch named Flutter Mildweather; her one-eyed raven companion, who can see only the good in the world; and two small kidnapped children. Reprinted in an elegant edition with original white-on-black etched illustrations...
The Glassblower's Children
 retains its mystical, allegorical power.... Stirring and distinct, this fable by the 1974 winner of the Hans Christian Andersen Award lends itself not just to bedtime reading but also to quiet reflection."  —
The Wall Street Journal

 
"[Gripe's] stories were often deceptively plaintive. They hid a wealth of darker truths which brewed just beneath the crust of her mannered language.... Gripe employs a striking dynamism that straddles a balance between grim realism and mystical fantasy. Very Swedish in its approach to analyzing human behaviour (think Ingmar Bergman writing children's stories), 
The Glassblower's Children

 
delves deep to examine a kind of existential melancholy in young children." —Imran Khan, 
PopMatters
PRODUCT DETAILS:
Paperback
Publisher: NYRB Children's Collection
ISBN: 
978-1681373782
Pages: 176
Ages: 8 to 12
---