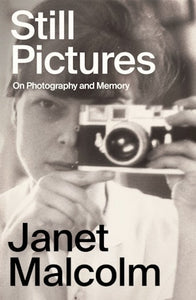 Still Pictures: On Photography and Memory by Janet Malcolm (HC)
Regular price
₱1,495.00
₱0.00
Unit price
per
For decades, Janet Malcolm's books and dispatches for the 
New Yorker
 have poked and prodded at biographical convention, gesturing towards the artifice that underpins both public and private selves. Here, Malcolm turns her gimlet eye on her own life, examining twelve family photographs to construct a memoir from camera-caught moments, each of which pose questions of their own.

She begins with the picture of a morose young girl on a train, leaving Prague at the age of five in 1939. From there we follow her to the Czech enclave of Yorkville in Manhattan, where her father, a psychiatrist and neurologist, and her mother, an attorney from a bourgeois family, traded their bohemian, Dada-inflected lives for the ambitions of middle-class America. From her early, fitful loves to evenings at the old Metropolitan Opera House to her fascination with what it might mean to be a "bad girl," Malcolm assembles a composite portrait of a New York childhood, one that never escaped the tug of Europe and the mysteries of fate and family. Later, Malcolm delves into her marriage to Gardner Botsford, the world of William Shawn's 
New Yorker
, and the libel trial that led her to become a character in her own drama.

Displaying the sharp wit and astute commentary that are Malcolmian trademarks, this brief volume develops into a memoir like no other.
REVIEWS
"Superb . . . While [Malcolm's] writing in these passages remains restrained, as it always was, they bear an unwonted intensity of feeling, seemingly held just barely at bay . . . [
Still Pictures
] unavoidably calls to mind the enduring power of another émigré, the novelist W.G. Sebald, who made similar use of photographs . . . [The] final, splendid, most personal work of her long career." 
―Charles Finch, 
The New York Times Book Review


"[
Still Pictures
] may be the world's most elegant annotated photo album . . . Each sentence, in true Malcolm form, turns out masterful . . . The collage artist puts fragments next to each other to make meaning, or spark energy, and this is what Malcolm does in Still Pictures . . . She is writing about the difficulty we have evoking our former selves, the many ways in which they are strangers to us." 
―Katie Roiphe, 
The Atlantic


"[
Still Pictures
] is a characteristically Malcolmian work, reflecting on and resisting the conventions of the form in which she writes . . . It is as though we are sitting next to her in her living room as she flips through a family album . . . Part of the pleasure of this memoir is simply in getting to know her a little bit more . . . The other part is in reading new sentences by Janet Malcolm. They land like the opening lines of classic novels―hard, shining, immovable truths." 
―Elizabeth Winkler, 
The Wall Street Journal


"[An] evocative and distinctive final book―an unusually succinct and thought-provoking personal memoir that manages to capture so much of what made Janet Malcolm so unfailingly interesting." 
―Heller McAlpin, NPR


PRODUCT DETAILS
Hardcover Edition
Publisher: Granta Books
ISBN: 
978-1783788361
Pages: 176
---