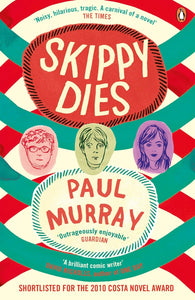 Skippy Dies by Paul Murray
Regular price
₱1,250.00
₱0.00
Unit price
per
Paul Murray's

 
Skippy Dies
 

is a tragicomic masterpiece about a Dublin boarding school
LONGLISTED FOR THE BOOKER PRIZE 2010


Ruprecht Van Doren is an overweight genius whose hobbies include very difficult maths and the Search of Extra-Terrestrial Intelligence. Daniel 'Skippy' Juster is his roommate. In the grand old Dublin institution that is Seabrook College for Boys, nobody pays either of them much attention. But when Skippy falls for Lori, the frisbee-playing siren from the girls' school next door, suddenly all kinds of people take an interest - including Carl, part-time drug-dealer and official school psychopath. . .

A tragic comedy of epic sweep and dimension, 
Skippy Dies
 scours the corners of the human heart and wrings every drop of pathos, humour and hopelessness out of life, love, Robert Graves, mermaids, M-theory, and everything in between.
REVIEWS


"Ambitious, wise, funny, fiercely intelligent. The beauty of this cynical, hopeful, beautifully written book is that it builds a detailed world to explore life, the universe and everything ― 
Sunday Express
"Hilarious, heartbreaking, totally engrossing. A triumph ― 
Daily Mail
Novels rarely come as funny and as moving as this utterly brilliant
exploration of teenhood and the anticlimax of becoming an adult . . . Skippy Dies is intuitive, truthful and one of the finest comic novels written anywhere. Dies? Never! Skippy lives." ― Irish Times

PRODUCT DETAILS
Trade Paperback
Publisher: Penguin
ISBN: 978-0141009957
Pages: 672
---