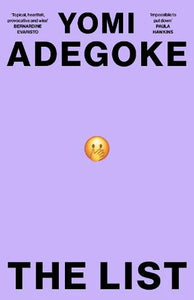 The List by Yomi Adegoke (HC)
Regular price
₱1,350.00
₱0.00
Unit price
per
ONLINE RUMOURS. REAL LIFE TROUBLE.
Ola Olajide, a high-profile journalist, is marrying the love of her life in one month's time. Young, beautiful, successful – she and her fiancé Michael seem to have it all.
That is, until one morning when they both wake up to the same message:
'Oh my god, have you seen The List?'
It began as a list of anonymous allegations about abusive men. Now it has been published online. Ola made her name breaking exactly this type of story. She would usually be the first to cover it, calling for the men to be fired. Except today, Michael's name is on there.
With their future on the line, Ola gives Michael an ultimatum to prove his innocence by their wedding day, but will the truth of what happened change everything for both of them?

REVIEWS

"Topical, heartfelt, provocative and wise, Yomi Adegoke's characters are tenderly realized, and she has an exceptional ear for capturing different vernaculars so that the entire cast of this ultimate millennial novel springs vividly to life."  — Bernardine Evaristo
"The List was phenomenal. Brilliantly written, intricately plotted and incredibly clever. Once I started, I could not put it down, and I am sure I'll be thinking about this book for a very long time. Five solid stars from me. Thank you to Yomi for sharing her talent with the world." — Abi Daré, New York Times bestselling author of The Girl with the Louding Voice
"The List asks 'what if?' and the answers will surely get people thinking. A vibrantly told exploration of the messy interface between virtual and offline relationships. A page-turning tale!" — Charmaine Wilkerson, New York Times bestselling author of Black Cake

PRODUCT DETAILS
Hardcover Edition
Publisher: Fourth Estate
ISBN: 978-0008544492
Pages: 384
---