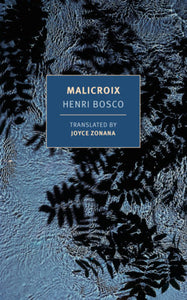 Malicroix by Henri Bosco
Regular price
₱999.00
₱0.00
Unit price
per
Fans of the style of William Faulkner will want to read Henri Bosco, four-time nominee for the Nobel Prize in Literature. Available in English for the first time, Malicroix tells the story of a recluse living in the French countryside, unraveling how he came to a life of solitude.


Although relatively unknown today by readers of English, Henri Bosco (1888-1976) was a prolific, well-respected, and popular mid-twentieth century French writer. The author of over thirty volumes of fiction and poetry, he received the Grand prix national des lettres, the Grand prix de l'Academie francaise, and the Prix des Ambassadeurs.
Malicroix
, hailed as Bosco's "finest achievement" and praised for its "intimate blending of the real world and the world of myth" (F.W. Saunders), is extensively cited by Gaston Bachelard in his influential
The Poetics of Space
and
The Poetics of Reverie
. Bachelard calls Malicroix a "vast prose poem" and writes of returning again and again to this distinctive, haunting novel.
Set in the early nineteenth century,
Malicroix
is the first-person narrative of a diffident, provincial young man who inherits from a great-uncle a house on an island in the Rhone, in the desolate and wild Camargue region. In order to actually acquire the house, the young man must live alone in it for three months, coming to terms with the huge and turbulent river (always threatening to flood the island and the countryside), the wild wind (blowing fiercely around his tiny shelter), and his own unaccustomed solitude. He must also complete a challenging task set by his great-uncle and resist the efforts of others who are bent on acquiring the house and the land for themselves. The novel traces the narrator's experiences as he comes into full possession not only of his inheritance but, more importantly, of himself.
REVIEWS
"[A] charming back-to-nature fantasia . . . even the strange blood feud bequeathed from Malicroix against a neighboring clan has a timeless, romantic quality." —Sam Sacks, 
The Wall Street Journal


"Readers partial to philosophical tangents will find much to enjoy here. . . . [A] work of tremendous lyricism." —
Kirkus

"[A] gothic historical par excellence . . . Bosco's atmospheric investigation of the relationship between environment and mentality successfully merges haunted-house tropes and high modernism." —
Publishers Weekly
"In this vast prose-poem . . . the author takes the time to show the harrowing of space in which the house is to live like an anguished heart. . . . The real drama of 
Malicroix
 is an ordeal by solitude." —Gaston Bachelard, 
The Poetics of Space
"[
Malicroix
 is] about solitude, and the anticipation of salvation . . . Bosco's book is stranger than I'd anticipated. 'Islands favor the moon,' someone warns him as his residence on the island is about to begin. 'Dreams form over water, peopling it with unreal, captivating shapes; and if you dream too much, Sir, you will never leave this isle of magic.' I've read elsewhere that we're all having strange dreams at this moment; if for some reason you aren't, 
Malicroix
 approximates that experience." —Rumaan Alam


PRODUCT DETAILS
Paperback
Publisher: NYRB Classics
ISBN: 
978-1681374109
Pages: 288
---