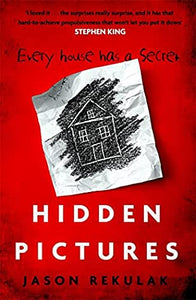 Hidden Pictures by Jason Rekulak
Regular price
₱1,095.00
₱0.00
Unit price
per
Mallory is delighted to have a new job looking after gorgeous four-year-old, Teddy. She's been sober for a year and a half and she's sure her new nannying role in the affluent suburbs will help keep her on the straight and narrow.
That is until Teddy starts to draw disturbing pictures of his imaginary friend, Anya. It is quite clear to Mallory and to Teddy's parents, even in his crude childlike style, that the woman Teddy is drawing in his pictures is dead.
Teddy's crayons are confiscated, and his paper locked away. But the drawings somehow keep coming, telling a frightening story of a woman murdered... and they're getting more sophisticated. But if Teddy isn't drawing the pictures anymore, who is? And what are they trying to tell Mallory about her new home?
REVIEWS
"Hidden Pictures isn't a ghost story, it's a scalpel that slices into our smug sense of self-satisfaction so deeply it hits bone. A perfect summer thriller complete with vengeful spirits, class warfare, and it even has pictures. What more could you want?- Grady Hendrix, New York Times bestselling author

"Whip-smart, creepy as hell, and masterfully plotted, Hidden Pictures is the best new thriller I've read in years. Destined to be a classic of the genre." - Ransom Riggs, bestselling author of Miss Peregrine's Home for Peculiar Children

"One of the best and most inventive ghost stories I've read in years. The damaged but still fighting Mallory Quinn stole my heart. It's a beautiful dark rush of a novel. I'm already excited to read it again." - Joe Hill, author of The Fireman
"A gripping supernatural thriller." ―
Publishers Weekly
PRODUCT DETAILS
Paperback
Publisher: Sphere
ISBN: 
978-0751583700
Pages: 400
---