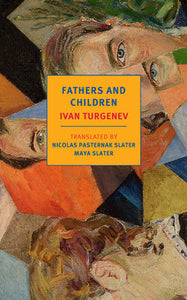 Fathers and Children by Ivan Turgenev
Regular price
₱999.00
₱0.00
Unit price
per
A 19th-century Russian masterpiece about love, politics, family, and the tension between the new generation and the old world.


Ivan Turgenev's
Fathers and Children
is a masterpiece not only of the nineteenth century but of the whole of Russian literature, a book bursting with life. It is a novel about the relations between the young and the old, about love, families, politics, religion, about strong beliefs and heated disagreements, illness and death. It is about the clash between liberals and conservatives, revolutionaries and reactionaries. At the time of its publication in 1862, the book aroused indignation in its critics who felt betrayed by Turgenev's refusal to let his novel serve a single ideology; it also received spirited defense by those who saw in his diffuse sympathies a greater service to art and to humanity.
Fathers and Children
is not a practical manifesto but a lasting work of art and a timely book for our present age, newly and ably translated by Nicolas Pasternak Slater and Maya Slater. 
REVIEWS
"Turgenev's remarkable quality of insight, gives [
Fathers and Children
] an uncanny position in Russian literature and life. . . . The new English translation... is also highly readable, and can occasion another look at the book, for those who've read it before, or a first look for those who haven't. . . . This rupture between parents and their children is what happens, over and over, with every new generation; there is nothing for it, no remedy, no answer." —Keith Gessen, 
The New Yorker


"An excellent and highly readable translation by veteran Russianists Nicolas Pasternak Slater and Maya Slater. . . . What makes the novel continually timely is Turgenev's insight into the psychology of such youthful rebellion. . . . We've seen enough of the self-righteousness of children and the stubbornness of parents to make 
Fathers and Children
 a book for our moment." —Adam Kirsch, 
Air Mail


"In short, it's a Russian masterpiece, one written so beautifully and with such economy, that when you finish reading it you feel a little shaken and a little stirred. A vodka martini on the front porch might be in order." —Gary Shteyngart, 
All Things Considered
PRODUCT DETAILS
Paperback
Publisher: NYRB Classics
ISBN: 
978-1681376356
Pages: 224
---