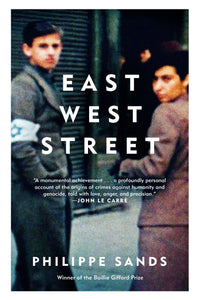 East West Street by Philippe Sands
Regular price
₱999.00
₱0.00
Unit price
per
A profound, important book, a moving personal detective story and an uncovering of secret pasts, set in Europe's center, the city of bright colors—Lviv, Ukraine, dividing east from west, north from south, in what had been the Austro-Hungarian Empire.

A book that explores the development of the world-changing legal concepts of "genocide" and "crimes against humanity" that came about as a result of the unprecedented atrocities of Hitler's Third Reich.


It is also a spellbinding family memoir, as the author traces the mysterious story of his grandfather as he maneuvered through Europe in the face of Nazi atrocities. This is "a monumental achievement ...  told with love, anger and precision" (John le Carré, acclaimed internationally bestselling author).


East West Street
 looks at the personal and intellectual evolution of the two men who simultaneously originated the ideas of "genocide" and "crimes against humanity," both of whom, not knowing the other, studied at the same university with the same professors, in "the Paris of Ukraine," a major cultural center of Europe, a city variously called Lemberg, Lwów, Lvov, or Lviv.
 
Phillipe Sands changes the way we look at the world, at our understanding of history and how civilization has tried to cope with mass murder.

REVIEWS

"A monumental achievement . . . a profoundly personal account of the origins of crimes against humanity and genocide, told with love, anger and precision." —John le Carré

"Sands proceeds in the manner of certain historians . . . he also works in the manner of the author of thrillers. . . . In Sands's history, as in all great novels, we encounter characters who, though seemingly secondary, are essential to the plot . . . And all the while Sands works in the way of artists like Filippo Lippi, who painted himself into the corner of his 'Coronation of the Virgin' and 'The Funeral of Saint Stephen.' . . . The result is a narrative, to my knowledge unprecedented. . . . We have in Sands's 

East West Street 

a machine of power and beauty that should not be ignored by anyone in the United States or elsewhere who would believe that there are irreparable crimes whose adjudication should not stop at the border. . . . Barack Obama and his successors would be well advised to move to the top of their reading lists this account of the birth, amid the darkest conceivable shadows, of an unprecedented body of rights-based law, whose application has scarcely begun." —Bernard-Henri Lévy, 

New York Times Book Review 


 
"Remarkable sleuthing." —Christopher R. Browning, 

The New York Review of Books


 
"An intimate and important tale . . . vivid . . . engaging. . . . A kind of mystery-solving journey . . . remarkable." —John Tirman, 

The Washington Post


 
PRODUCT DETAILS
Paperback
Publisher: Vintage
ISBN: 978-0525433729
Pages: 464
---