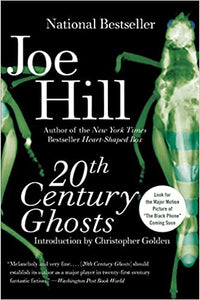 20th Century Ghosts by Joe Hill
Regular price
₱998.00
₱0.00
Unit price
per
Joe Hill's award-winning story collection, featuring "The Black Phone," soon to be a major motion picture from Universal Pictures and Blumhouse Productions
Imogene is young, beautiful . . . and dead, waiting in the Rosebud Theater one afternoon in 1945. . . .
Francis was human once, but now he's an eight-foot-tall locust, and everyone in Calliphora will tremble when they hear him sing. . . .
John is locked in a basement stained with the blood of half a dozen murdered children, and an antique telephone, long since disconnected, rings at night with calls from the dead. . . .
Nolan knows but can never tell what really happened in the summer of '77, when his idiot savant younger brother built a vast cardboard fort with secret doors leading into other worlds. . . .
The past isn't dead. It isn't even past. . . .
REVIEWS
"The first collection from #1 New York Times bestselling author Joe Hill, 20th Century Ghosts is an inventive and chilling compendium that established this award-winning, critically acclaimed author as "a major player in 21st-century fantastic fiction" - Washington Post
"20th Century Ghosts is Hill's first collection of short stories and displays consummate skill in a variety of genres . . . Amusing, moving, horrifying—Ghosts runs the full spectrum." -- USA Today

"Alternately sad, scary, strange and at times even sweet, these tales will haunt you long after you've read them." -- Parade
PRODUCT DETAILS
Paperback
Publisher: William Morrow Paperbacks
ISBN: 978-0061147982
Pages: 336
---